Get a FREE Guide on Digital IRAs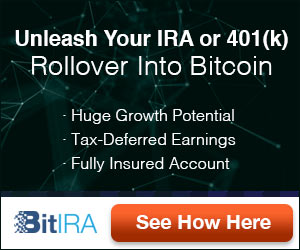 Supercharge Your IRA or 401(k) – Invest in Cryptocurrencies Tax Free with BitIRA.
Inside you'll learn how digital currency in an IRA…
Offer Tremendous Growth Potential – You know how much they've already increased in value. And they haven't even fully disrupted the system yet.
Shelter From Overvalued Stocks – Goldman Sachs recently said that stocks have an "elevated valuation on almost every metric." Are we at the top of a bubble?
Provide Tax-Deferred Growth – any proceeds from the digital currency in your IRA can be retained tax-free until you take a distribution.
---